Following our attempt at catching the sunrise from Tumalo Peak we took a day off then headed back out to the trails. The weather was still a bit cloudy but it was okay this time because our goal was a series of lakes and not mountain views. We arrived at the trail just as it was becoming light.

Shortly after setting off we entered the Three Sisters Wilderness.

The trail climbed gradually to the first lake which was Blow Lake which we arrived at just as the clouds began turning colors with the rising Sun.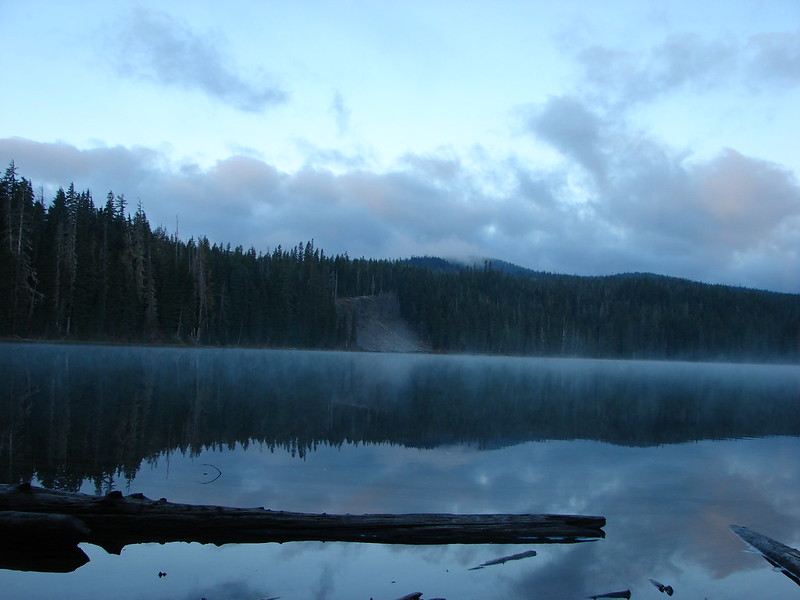 We left Blow Lake and followed the trail another mile and a half to Doris Lake. Along the way we met a couple of the locals and spotted an interesting group of mushrooms.
Frog on a log.

Chipmunk (On a different log.)

Mushrooms

Doris Lake

From Doris Lake we followed the Six Lakes Trail for close to another mile to a trail junction where we then took a short .6 mile side trip to see Senoj Lake.

We returned to the Six Lake Trail and continued two more miles to the Pacific Crest Trail. We then took the PCT south for 1.6 miles past several small bodies of water to an unmarked side trail on the left at a small rock pile. We took the side trail which led us to the Cliff Lake Shelter and Cliff Lake, our turnaround point.
Cliff Lake Shelter

We left our gear at the shelter and spent some time exploring a rocky bank and enjoying the lake. When we got back to the shelter we noticed that a squirrel, chipmunk, and a golden-mantled squirrel had all taken an interest in our packs. They scurried off when we approached but soon several grey jays came in to check us out.

There were also lots of dragon flies and a butterfly flitting about.

We left the shelter and headed back the way we'd come (minus the side trip to Senoj Lake). There had been a slight chance of showers forecast but the weather had been great and the skies increasingly blue. When we arrived back at Doris Lake we went back down to the shore and followed a trail along it for awhile.

Near the end of the hike we even got a mountain view.
Mt. Bachelor

It turned out to be a very pleasant hike. Each lake was unique and trails were were well maintained and never very steep. Our Garmin showed a total distance of 16.7 miles which was a bit more than we'd expected but the ease of the trail made it seem like less. Happy Trails!
flickr: https://www.flickr.com/photos/9319235@N02/sets/72157647774074649/
facebook: https://www.facebook.com/media/set/?set=a.10205149078033743.1073741911.1448521051&type=1