It's hard to believe that it's time for another year end wrap up. This will be our 6th such post since we started this blog in 2013. It's even harder to believe that we still have so many hikes yet to do before we are finished with our long term hiking goal of completing at least some portion of all 500 of the featured hikes in William L. Sullivan's five "100 Hikes…" guidebooks.
A goal we are closing in on is visiting all 45 of the accessible designated wilderness areas in Oregon. (Three Arch Rocks and Oregon Islands, both off the Oregon Coast, are off limits to visitors,) We now have just seven wilderness areas left to visit after spending time in the Rogue-Umpqua Divide (post), Steens Mountain (post), Strawberry Mountain (post), and Copper-Salmon (post) wildernesses this year.
With so many different hikes available we were once again able to spend most of our year exploring new trails and areas. We took hikes on 61 different days, 51 of those days were spent on trails (or sections of trails) that were new to us this year. Six additional days were partially on new sections of trail while just four days were repeated hikes.
Many of our hiking days consisted of multiple stops this year which resulted in a nice round 100 separate "hikes" varying in length from a quarter mile at the Pillars of Rome (post) to 20.3 miles in the Waldo Lake Wilderness (post).
Of those 100 hikes 89 were brand new, 6 were partially new, and 5 were repeated. The number of repeated hikes is 5 and not 4 because Saddle Mountain was done on the same day as three new hikes (post). Below is a map showing all of our stops.

Hikers=Trailheads, Houses=Tent Sites, Binoculars=Short Walk/Viewpoint
Although the majority of our hikes were done in Oregon we did manage to spend one day each in Washington (Falls Creek Falls), California (Lava Beds National Monument), and for the first time Idaho (Jump Creek Falls).
Falls Creek Falls
Lava Beds National Monument
Jump Creek Falls
We did spend more time east of the Cascade Crest this year compared to years past including trips to SE Oregon in June (amazing scenery/horrible roads), the Strawberry Mountains in July (beautiful but HOT), the Elkhorns in August (mountain goats galore), and Klamath Falls in October (lots of wildlife). Our other vacation was a trip to the Oregon Coast in September (Bandon = new favorite coast town). Hiking in so many different areas once again provided us with a wide variety of scenery.
Cape Meares Lighthouse
McDonald-Dunn Forest
Lower South Falls – Silver Falls State Park
Balsamroot at Memaloose Hills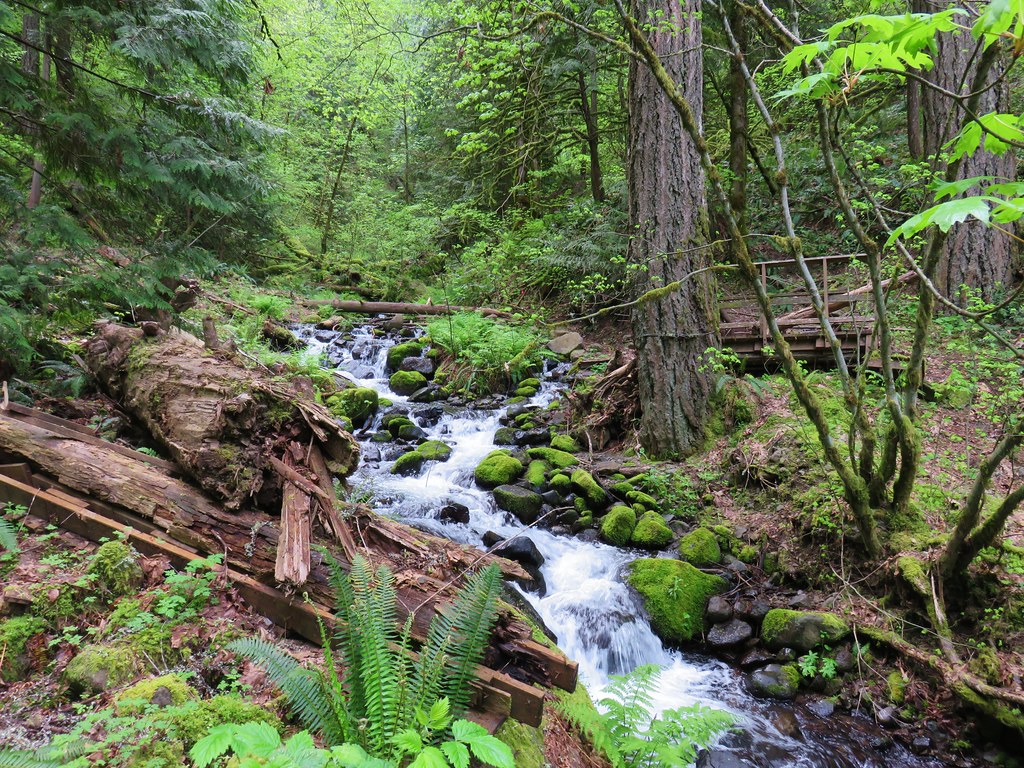 Perham Creek – Columbia River Gorge
White River Falls
Deschutes River near Macks Canyon
Buck Canyon – Rogue-Umpqua Divide Wilderness
Mt. Thielsen
Cascade Mountains from Black Butte
Salmon River
Frustration Falls – Salmon-Huckleberry Wilderness
Malheur Wildlife Refuge
Peter French Round Barn
Coffee Pot Crater – Jordan Craters
Timber Gulch
Owyhee River
Pillars of Rome – Rome, Oregon
Chalk Basin
Borax Lake
Borax Hot Springs
Steens Mountain and the Alvord Desert
The Island and Lake Billy Chinook
Emerald Pool – Bull of the Woods Wilderness
Horsepasture Mountain Trail
Bagby Springs Trail
Boyd Cave
Pine Creek Trail – Strawberry Mountain Wilderness
Volcanic ash – Strawberry Mountain Wilderness
Strawberry Mountain Wilderness
Slide Lake – Strawberry Mountain Wilderness
Jefferson Park – Mt. Jefferson Wilderness
Elkhorn Crest Trail
Summit Lake – Elkhorns
Rock Creek Lake – Elkhorns
Waldo Lake
Rigdon Butte
Broken Top, The Three Sisters, Mt. Washington and Three Fingered Jack from South Pyramid Peak in the Mt. Jefferson Wilderness
Carl Lake – Mt. Jefferson Wilderness
Hole-in-the-Wall Park – Mt. Jefferson Wilderness
Mt. Jefferson & Goat Peak – Mt. Jefferson Wilderness
Umpqua Dunes
Bandon Islands
Copper-Salmon Wilderness
Tahkenitch Creek
Huckleberry bushes – Diamond Peak Wilderness
Mt. Hood
Devil's Garden
Sprague River
Tule Lake
Petroglyph Point
Mt. McLoughlin
Salmon Creek Falls
Footbridge over Falls Creek
Washington Cascades from Red Mountain
Klamath Falls on the Link River
Spouting Horn – Cape Perpetua
Forest Park – Portland, Oregon
Waxmyrtle Marsh
Siuslaw National Forest
In addition to the great scenery we saw a wide variety of wildlife and a fair number of wildflowers despite it not being the best year for them. Instead of including some of those pictures here we hope to post a separate 2018 wildlife and wildflower galleries soon.
We're already looking forward to another year of hiking. If everything works out we will be checking off three more Oregon wilderness areas and a whole bunch of new hikes in 2019. We'll be doing one or maybe two hikes a month from now until mid-Spring. Since we won't have a lot of trips to report on during that time we're hoping to do a few other hiking related posts including a more in depth look at our goals of visiting all the wilderness areas and checking off the 500 "featured hikes".
We hope everyone has a great New Year and as always – Happy Trails!